Frank Serafine

Back


This car is going to be at the Performance Racing Industry 2007 show in December. Butler Performance and AllPontiac donated the Block and Heads for this project.

1969 Pro Touring Extreme Trans Am Convertible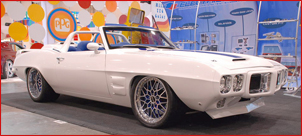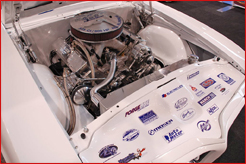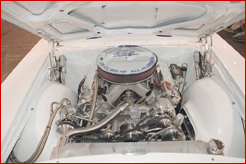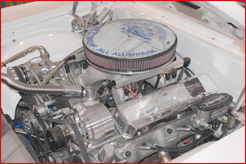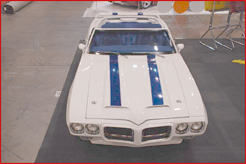 Tech information


1969 Firebird 350 convertible donor
Body mods include custom blended rear bumper, Aircraft style center fuel filler, lower valence exhaust exit, Prodigy Customs rear wing is widen to properly fit the rear quarter panels, smoothed convertible top eliminates stainless well moldings, signature Prodigy Customs hard boot with TA style scoops to match the TA hood, Prodigy Customs signature Roll bar (with LED dome light) and hidden back bracing, Smoothed and painted windshield frame eliminates stainless moldings and flush mounted windshield, 1 1/2" rocker extensions, filled cowl filler louvers, Prodigy Customs Fiberglass headlamp buckets eliminate rubber filler, also fiberglass Prodigy Customs front bumper sheds 12 LBS, Prodigy Customs 3" widen and smoothed mini tub fiberglass inner fenders, Trans Am hood with blended scoops

Custom mix pure white pearl with custom mix blue candy stripes, Mercedes Royal Blue Cloth convertible top



Interior


front and rear modified Corvette C5 Sport bucket seats covered in Blue Ultra Swede and blue leather trim, Prodigy Custom custom Dash and full front to rear console / water fall, Autometer Cobalt gauges, Pioneer Z3 Navigation / tuner / DVD player / monitor, Prodigy Customs fiberglass door and side panels, IDidIt polished column and Momo Millennium steering wheel, prodigy Custom smoked glass. Electric life Power Windows, locks and keyless push to start system



Chassis and suspension
Front
Speed Tech front Subframe, Rack and Pinion front mount steering, Tubular upper and lower arms, Splined Speedway sway bar, Air Ride Shockwaves,

Rear
Air Ride Air Bar four link, Shockwaves,

DSE sub frame connectors, Prodigy Customs Roll Bar, Custom rear floor for exhaust exit

Brake
Wilwood 14" Six Piston Front, 14" Four Piston Rear with internal E brake, Custom blue powder coat Wilwood Superlite calipers, Wilwood 7/8" bore Aluminum dual reservoir master and 6.25 : 1 Wilwood pedals

Drivetrain
Engine
535CI / 800+HP? (not dynoed yet) AllPontiac Aluminum block
AllPontiac Pump Gas Tiger Cylinder Heads
AllPontiac Crank
AllPontiac Tiger intake (soon to be replaced with a customs Sheet metal tuned port intake)
The engine was built in house with Butler Performance selecting internals and supplying Butler Performance Valley Pan, Oil pan, EVAC System, Valve covers and unlimited expertise!
Complete Accel Thruster Fuel Injection, dominator Throttle Body
March Performance Serpentine Pulley system
TKO600 transmission
Moser 33 spline Tru Trac 12 bolt,
Rick's Hot Rods stainless fuel tank

Wheels and Tires
Custom Prodigy Customs / Forgeline Snowflake Wheels 19 X 10.5 front, 19 X 12.5 rear
Michelin Pilot Sport PS2 295 / 30 / 19 front and 345 / 30 / 19 rear

Hello all, My name is Frank From Prodigy Customs. We specialize in Pro Touring GM cars, mostly Chevrolet and Pontiacs from the 50s through 80s, with most of our projects falling in the late 60s to early 70s vintage. We are long time Pontiac fans, in fact my first new car was a 78 Trans Am when I was a senior in high school in 1978. While the majority of our work is Chevrolet based, I have owned and built dozens of Pontiacs over the 25+ years I have been building cars. I will post some pics of other recent Pontiac projects later.

The following is a little project we debut at SEMA last week and seemed to really get the true Pontiac fans blood flowing. At the urging of a few Performance Years members which attended SEMA, we are posting some pictures and information here. I hope you all like it.

Project EmptyNest as it is tribute to the infamous 1969 Trans Am convertible of which of coarse only 8 were built Prodigy style.

This 96 day project started in mid July with a 67,000 mile rust bucket. Project EmptyNest was built for and by my wife Lisa. When I met Lisa 23 years ago, she had totaled her 66 mustang Street Racing, and came to me to build her another with the insurance proceeds form the totaled mint Pony. Long story short, I blackmailed her into going out with me under threat her paint job may not be as good if she were not my girlfriend, and 23 years later, I still find ways to keep her, LOL! The premise behind the project is that Lisa had to put her muscle car days on hold when we had too many kids (3 boys) to fit in her sports cars, and now that the kids are grown, and now that Michael our youngest is a accomplished car builder, it is her turn. After fully supporting and watching father and sons dream of Michael's first car, a 67 Camaro convertible named Project Prodigy, being a SEMA show stopper, it was only fitting that Michael build a hot rod for mom since it was his birth making 3 babies, One too many to fit in a 2 + 2 anymore, forcing her to give up her hot rod!

Lisa very much wanted to participate in the project, do a few things, learn a few things, she did not want this car just handed to her. Lisa got down and dirty right there with us. Lisa is a girlie girl, just the way I like them, but she is not afraid of much including torches, plasma cutters, welders, grinders, saws, she did it all! Michael and myself did the lions share of the work, with a lot of help from our awesome staff at Prodigy Customs, and some really good friends that all busted their asses.