Rex Caroll

Back


Mocking up new motor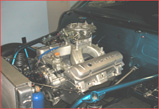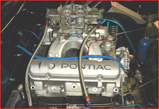 Our Firebird has been in the family and raced for over 30 years. In 2004 we upgraded the chassis and gave it a makeover in our parents garage. Since we had so much fun building and creating, we have since opened a fabrication shop.
The Firebird has run a best of 9.98 in the 1/4 with a very mild D port headed 455. With the help of Frank Gostyla and Bob Cacciotti at AllPontiac, we hope to run under 9.00 with a big inch bracket motor.
If your interested in seeing the construction of this car, you can visit our website at http://home.adelphia.net/~fbnr/fbnracecars.html
Rex and Mark Caroll